Voted BEST Facelift Doctor in Los Angeles
Posted January 09, 2019 in Facelift
Top-Rated Facelift Surgeon in Los Angeles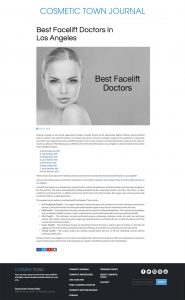 Cosmetic Town, an online platform that focuses on cosmetic medicine and serves as an educational resource for potential patients, uses strict criteria to determine which plastic surgeon is the best facelift doctor in Los Angeles. Some of the guidelines used when gathering qualitative data for this award are:
Meticulous consumer research using an advanced algorithm
The doctors' efforts to educate patients and the public about plastic surgery
The doctors' involvement in peer education (i.e., writing for medical journals)
According to Cosmetic Town, Dr. Boris Ackerman was voted "Best Facelift Doctor in Los Angeles" in 2018. "After 30 years of experience in the operating room," he said upon receiving this prestigious accolade, "I am still humbled to receive recognition such as this, and I share this distinction with my staff for all the hard work they provide to our patients!" Dr. Ackerman is certified by The American Board of Plastic Surgery and is a member of The American Society of Plastic Surgeons. He has been praised for his talent and expertise in a range of specialties, including breast, facial, and body contouring procedures.
Considering Facelift Surgery?
The decision to undergo cosmetic surgery involves several factors, such as which techniques will produce the desired results, what procedure is right for the patient, and which doctor has the extensive skill and experience necessary to deliver the ideal outcome. Facelift patients can experience the most fulfilling surgical journey and achieve the best results by selecting a highly qualified plastic surgeon focused on natural-looking results.
Benefits of Facelift Surgery
You may be considering facelift surgery if you are concerned about sagging skin and wrinkles in the lower region of your face. Facelift surgery is the golden standard for facial rejuvenation and can be completely customized to your needs. Some of the most significant advantages of undergoing facelift surgery are:
Comprehensive facial rejuvenation
Redefined contours of the lower face
A youthful aesthetic that complements the natural facial anatomy
Long-lasting results
If you desire facial rejuvenation with a natural look that lasts, please schedule your facelift consultation with Dr. Ackerman by calling 949.759.3284 today!