Should the Neck Be Addressed in a Facelift?
Posted October 11, 2019 in Facelift
Aging is not limited to the face—the neck ages at the same rate, if not faster, than the tissues above it.
Often, the skin and muscles on the neck are not as well maintained as the face.
This lack of maintenance combined with the natural aging process causes sagging skin, muscle laxity, and excess fat on the neck.
Facelift surgery reduces the appearance of lines, wrinkles, volume loss, and sagging skin on the lower two-thirds of the face.
Neck lift surgery smooths and tightens the skin and tissues on the neck.
These procedures can be performed separately to restore youthfulness to their designated areas, but they can also be combined for a complete neck and face makeover.
What Can the Combination Achieve?
Facial Balance
The main reason that patients choose to combine a facelift with a neck lift is to ensure a balance between the features.
When these techniques are completed together, the risk of having a noticeable contrast between the quality of the facial and neck tissues is drastically decreased.
If a facelift is performed without also addressing the neck, the results of that facelift may be diminished.
Defined Jawline
A facelift will increase the contour and definition of the chin and jawline.
Jowls will be addressed and lessened with a facelift, but this reduction can be increased even more when a neck lift is performed.
The area targeted by neck lift surgery starts right where a facelift ends at the jawline.
Tightening the skin beneath the jaw and removing a double chin will highlight and allow the jawline to appear that much more sculpted and defined.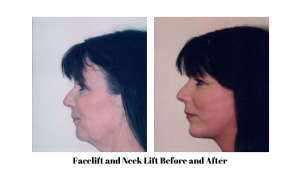 What Are the Benefits of This Combination?
One Procedure
Combining a facelift with a neck lift does not only have aesthetic benefits; it also has practical ones.
When multiple surgical procedures are performed, you only require one consultation, one round of tests, one day of surgery, and one recovery period.
Also, since you are performing these together, the cost of your combined procedure will be less than if you were having them performed separately.
Same Incisions
Facelift and neck lift surgeries often utilize the same incisions to correct facial laxity.
An additional incision may be made beneath the chin during a neck lift, but all the other incisions are required for both.
Since you already require these incisions for your facelift, why not go one small step further to extend your results to the neck?
Minimized Surgical Risk
Even under the most skilled hands, surgery is not without risk. Adverse reactions to anesthesia, infection, bleeding, and changes in skin sensation are all possible complications.
When combined as one, patients are only required one round of anesthesia and one chance of developing complications.
Have More Questions?
For more information about facelift or neck lift surgery, contact Dr. Ackerman by calling (949) 759-3284 or by filling out our online contact form.