29 Questions About Facelift Surgery
Posted December 13, 2019 in Facelift
Facelift surgery addresses the aging process of the face, which includes skin aging due the sun damage, genetics, and environmental factors as well as sagging of the deeper facial tissues.
These factors result in fine lines, wrinkles, skin laxity, and volume loss. Patients who experience a significant degree of these signs may consider facelift surgery.

Dr. Ackerman performs facelift surgery in Newport Beach, California. Contact him today by calling 949.759.3284 and set up a consultation to see if you are a candidate for a facelift.
---
1. What is facelift surgery?
Facelift surgery, also known as rhytidectomy, is the process of correcting the noticeable signs of aging and restoring natural youthfulness to the face and neck. It involves repositioning some deeper structures in the cheeks and the neck, and removing some excess skin.
---
2. Am I a candidate for facelift surgery?
Candidates for facelift surgery are men and women who wish to reverse some of the aging appearance of their face and retain the natural and youthful appearance.
The best candidates for facelift surgery are those who do not smoke, have realistic expectations of their results, and have developed any of the following symptoms in their face:
Droopy cheeks and jowls
Sagging skin in the neck
Excess fat in the neck
Midface volume loss
Lax jawline
---
3. Do I need a facelift?
Facelift surgery can be beneficial for patients with moderate to severe facial aging and skin laxity. Men and women with mild aging, such as fine lines and slight volume loss, may be able to undergo a less invasive, non-surgical treatment like dermal fillers.
---
4. Will a facelift remove my jowls?
Yes. Jowls are a result of sagging skin, fat, and facial muscles. When the tissues are tightened during a facelift, they are pulled back to their previous elevation. This technique eliminates the appearance of jowls and creates a sculpted jaw contour.
---
5. Does a facelift target the neck?
While facelift surgery does not have to address the neck, rhytidectomy commonly includes at least some correction of the aging appearance of the neck by combining a neck lift with your facelift.
This is done to maintain an aesthetic balance between the two areas.
---
6. Will a facelift address my forehead?
No. Facelift surgery does not address the upper third of your face. This includes the areas around the eyes and the forehead. If you are experiencing visible aging in this region, you will benefit from an additional procedure like blepharoplasty and even a forehead lift.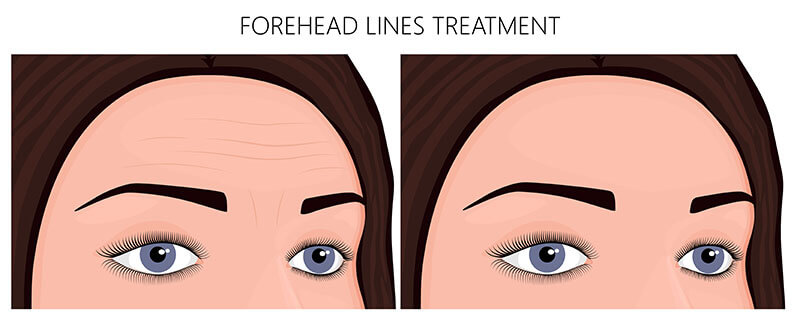 ---
7. What is the best age for a facelift?
Every person ages genetically at their own rate, and this is further influenced by their lifestyle and their amount of exposure to the sun. Because of that, there is no ideal age for a facelift; there is only an expected amount of facial laxity.
That being said, most facelift patients are between the ages of 40 and 60.
If you are unhappy with the amount of visible aging on your face and neck, you may be at the right age for a facelift.
---
8. Is facelift surgery safe?
Yes. Facelift surgery has been performed for many years, and surgeons have been able to tailor their techniques to ensure the safest procedure possible.
Facelift surgery is usually performed under light anesthesia or, on occasion, under local anesthesia. When performed by a skilled surgeon, typically the patients experience only mild discomfort after the facelift. Any post-operative discomfort can be lessened with prescribed or over-the-counter pain medication.
---
9. Will my facelift look natural?
A facelift specialist can achieve significant youthful appearance and yet retain the natural look. Because facelift surgery tightens the underlying muscles and fat as well as removing the excess skin, there is no chance of having a wind-tunneled or windswept appearance. You will look naturally rested after your rhytidectomy.
---
10. But why do some facelifts look so unnatural?
Facelift surgery requires experience and impeccable skill. Not many plastic surgeons specialize in facelifts. When the deep cheek tissues are not repositioned and skin is pulled to tight, or in the wrong direction, the results can appear unnatural.
In addition, there are some tell tale signs of a facelift that can be easily avoided by a skilled facelift surgeon.
---
11. Will my facelift restore volume to my cheeks?
A lot of the time, facial volume loss is a result of sagging muscles and fat from the midface. During a facelift, the fat and facial muscles are lifted back to their original elevation. This allows for some volume to be restored to the midface.
If additional volume is desired, injectable fillers or fat transfer to the face can add more roundness to the cheeks.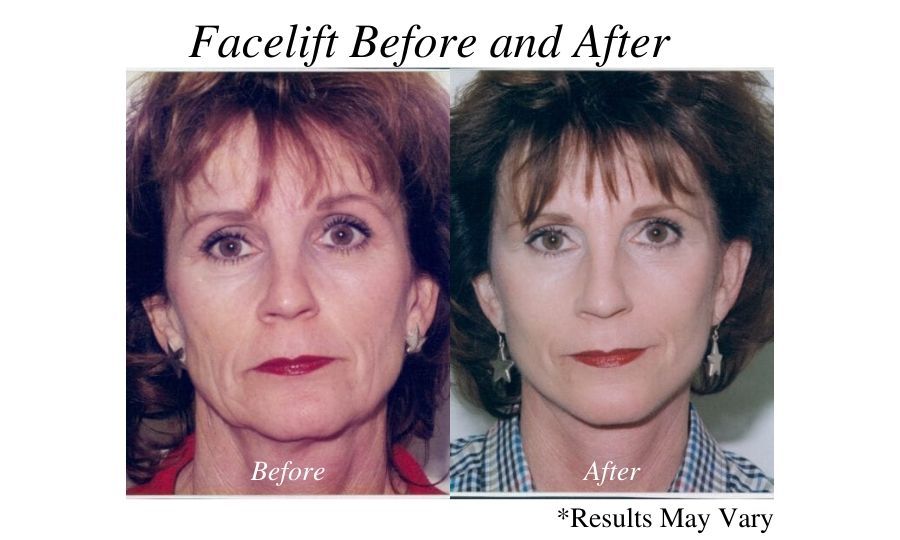 ---
12. Will facelift surgery change my appearance?
Facelift surgery is designed to eliminate the common signs of aging and restore a relaxed and rejuvenated appearance. This procedure will help return your appearance to how it once was; it will not alter the way you look.
---
13. Where will the incisions be made?
Incisions are made on either side of the face in the hairline and behind the ears.
---
14. How much does facelift surgery cost?
Facelift surgery is tailored to the patient, depending on their specific needs. Because of this, there is no way to estimate your facelift cost before your consultation. The surgical fees also vary widely depending on the patient's skills and reputation.
---
15. Will facelift surgery leave scars?
Typical facelift scars eventually become barely imperceptible. Even in the early healing phase, most facelift scars are easily concealed with the most hairstules.
---
16. How can I minimize facelift scars?
To ensure that your scars remain discreet, patients should keep their healing incisions out of the sun. All scars will fade with time.
---
17. What are the potential complications after facelift surgery?
When a facelift is performed by a talented and experienced facelift specialist, the risks of complications are quite remote.
Even if complications were to occur, when properly identified and treated nearly all complications can resolve without any significant long term effects.
Some of the possible complications include:
Bleeding
Bruising
Infection
Hair loss around the incision
Prolonged healing
Nerve damage
Permanent numbness
---
18. Will my facelift be permanent?
Facelift results are long lasting, but facelift surgery will not stop the natural aging process, and additional aging will occur. Patients should maintain a healthy lifestyle, which includes not smoking, and can undergo non-surgical facial treatments to prolong the length of their results.
---
19. Will I be able to smile after a facelift?
Yes. Your face will feel somewhat tight for the first week or two after the surgery, and you may have some difficulty smiling. This will go away, and patients will be able to expose their smile and enjoy their rejuvenated appearance.
---
20. Will I experience numbness after my facelift?
Some patients do experience numbness in the cheek and neck area following facelift surgery. This should resolve in a few months.
---
21. Will I have to sleep on my back after facelift surgery?
Patients will want to sleep with their head elevated for several days after their facelift. This helps with circulation and ensures proper healing. After a few days, you can start to sleep flat on your back. You will not want to sleep on your side initially, as this can place unneeded stress on the incisions.
---
22. Can I eat after a facelift?
Eating a nutritious diet will help you recover faster from your facelift. There will be no eating restrictions after your facelift.
---
23. When can I wash my face after a facelift?
Most patients are allowed to wash their hair and get their face wet in a couple of days after the facelift.
---
24. When can I return to work after a facelift?
Most patients return to work within 10 to 14 days of their operation. Although it can take a few weeks before the patients are "camera ready."
---
25. When can I drink alcohol after my facelift?
Patients can resume responsible drinking as soon as they are finished taking pain medication. Alcohol can interfere negatively with the medication and should not be mixed. Patients should remember that alcohol does dehydrate the skin, which can prolong the healing process.
---
26. When can I exercise after a facelift?
Most patients can return to modified exercise after seven to 10 days, and then gradually resume more vigorous physical activities. Typically vigorous exercise can be resumed after about a month.
---
27. Should my facelift be combined with an eyelid lift?
Facelift surgery does not address the upper or lower eyelids. Depending on the aging process around the eyes, some patients could benefit from eyelid surgery at the same time as a facelift. In person consultation would address all those concerns.
---
28. What are my non-surgical options?
Non-surgical injectables or laser treatments may be appropriate for you if you are experiencing mild to moderate skin laxity and lines. Dr. Ackerman will be able to tell you which procedure you are a candidate for during your consultation.
---
29. How does one choose a facelift surgeon?
How to choose a qualified plastic surgeon, is an age old question. The best way to choose, is to be able to assess the surgeon's body of work, reputation, and track record.
If the surgeon consistently creates excellent work, then most likely you can expect the same quality of results in your particular case.
Seek out a couple of reputable surgeons for an in person consultation. You should be able to see literally hundreds of "before and after"facelift photos.
---
Interested in Learning More?
Contact Dr. Ackerman's office by filling out our online contact form. Dr. Ackerman is a renowned facelift surgeon in Newport Beach, California. Patients seek him out from throughout U.S. He is board certified by the American Board of Plastic Surgery (ABPS) and an active member of the American Society of Plastic Surgeons (ASPS) and the International Society of Aesthetic Plastic Surgery (ISAPS).