Recent Study Regarding Rhinoplasty Satisfaction For Men Lower than Women
Posted November 19, 2015 in Rhinplasty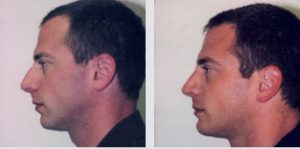 A recent study conducted by Healio reviewed the reviews of male rhinoplasty patients and concluded that women were significantly more satisfied with their results than men. The study reviewed 2,326 patient reviews on the plastic surgery website RealSelf, and found that females were 87.6% satisfied with their rhinoplasty results in comparison to only 56.1% of males being satisfied.
Dr. Boris Ackerman a Newport Beach Plastic Surgeon who specializes in rhinoplasty and facelift procedures believes communication with men is a big issue. "Women tend to be better communicators when it comes to having cosmetic surgery performed, in most cases women have many images stored on their phones and give specific details of what they want as an end result. Men on the other hand are just starting to embrace cosmetic surgery, and tend to be very shy and reserved at their consultation", says Dr. Ackerman.
Doctor Ackerman is one of the top facial surgeons in Newport Beach and has performed many male facelift procedures and male rhinoplasty procedures. "With men you simply need to spend a little more time with them and create an environment where they will communicate exactly what they expect. While modern predictive imaging programs can aid in allowing both the surgeon and the patient to agree on what the final result will look like, it is still incredibly important that the surgeon takes time to understand exactly the type of changes and the degree of change that a patient wants out of a rhinoplasty ", says Dr. Ackerman.
Dr. Ackerman has been recognized on TV Shows like Inside Edition, MTV, Discover Channel and local news for his plastic surgery skills for breast augmentation, facelifts, endoscopic brow lifts, rhinoplasty, tummy tucks and other body contouring procedures. If you are considering cosmetic surgery in Newport Beach or Orange County Dr. Ackerman has extensive experience in many cosmetic procedures. You can visit his gallery of before and after cosmetic procedures and review his extraordinary cosmetic surgery results.