Lip Lift or Lip Filler – Which Is Right for You?
Posted July 15, 2022 in Upper Lip Lift
3 Minute Read:
When it comes to cosmetic lip enhancement, lip fillers have dominated over the past two decades, but the current popularity of upper lip lifts and the increasing demand for the procedure has many women (and men) wanting to know more.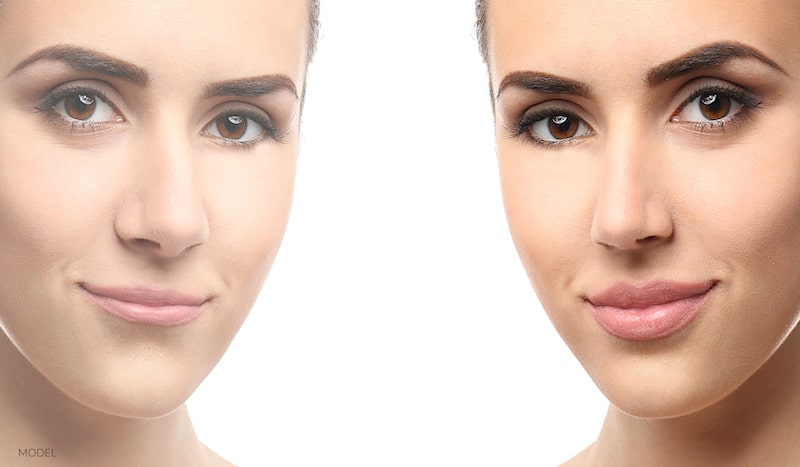 There is a big difference between lip fillers and lip lifts:
Typically lip filler is appropriate for younger patients. In older patients, as we age, our lips become longer, they come down as a window curtain. This elongation makes us look much older. In these patients Upper Lip Lift is more appropriate.
A lip filler adds volume and is appropriate for thin lips without elongation, typically seen in younger patients.
A Lip Lift raises the upper lip to shorten the philtral zone; the space between the base of the nose and top of the vermillion (the pink portion of the lips). This is appropriate for women with long upper lips. Some younger patients can also have an elongated upper lip.
Understanding the Central Oval of the Face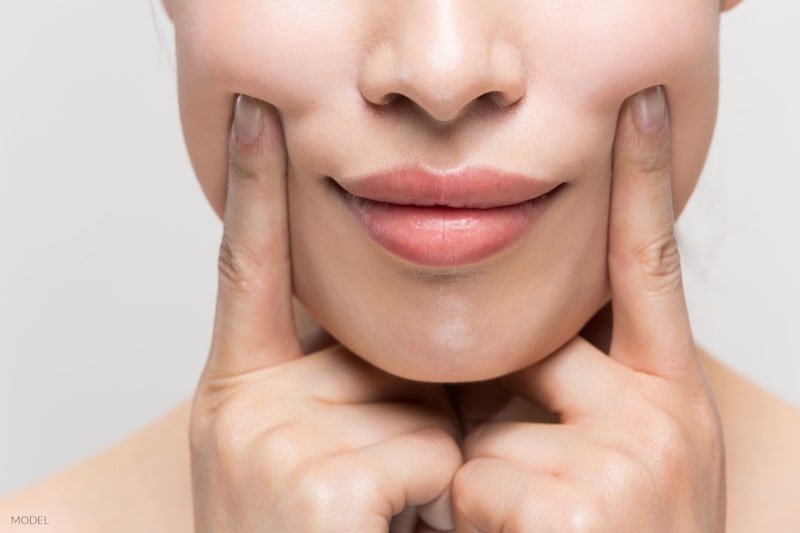 Dr. Ackerman has defined "the Central Oval of the Face" as the area on the face that includes the nose, upper lip, jowls and the nasolabial folds". This is the area of the face where the signs of aging are the most prominent. These aging changes start to be noticeable in the patients in their 40's, but especially in patients starting in their 50's. This aging lengthens the distance between the nose and lips (elongated lip) and causes the upper lip to sag.
Dermal fillers may add volume, but only a lip lift can restore a youthful position closer to the nose. In fact, adding volume to a long lip can create an undesirable "simian" appearance.
When to Choose a Lip Lift
Consider a surgical upper lip lift if:
Aging has lengthened your upper lip or caused it to sag, and you want to look younger.
You have a naturally long lip and want a more pleasing facial aesthetic.
You have a downturned lip.
You prefer a permanent and natural lip enhancement rather than having to maintain results with repeated treatments.
Years of using lip fillers have stretched out or distorted your lips.
You want to eliminate fine lines around your lips permanently. (Aging may cause more to develop over time)
When to Choose a Lip Filler
Consider a lip filler if :
You have naturally thin lips and prefer them to be plumper and more sensual.
Aging has not elongated your upper lip but has decreased its volume, and you want to restore fullness.
Your lips are not long, but you want to eliminate fine lines around them temporarily.
When to Combine a Lip Lift and Lip Filler
Some patients can maximize their results by combining the two procedures. The lip lift would be performed first, followed by the lip filler.
This may be appropriate in the following circumstances:
You have naturally thin, elongated lips and want to lift them for better lip filler results.
You want a simple procedure to shorten your philtral zone or correct a downturned mouth, and only plan to use lip fillers on special occasions.
Avoid large volume increases with fillers and lip lifts, as repeatedly stretching the lip tissue and skin too dramatically can affect your surgical results.
Lip Lift Specialist in Newport Beach, CA
When choosing your lip lift surgeon, it is crucial to research them thoroughly and consult only with board-certified plastic surgeons who perform this procedure often. Dr. Boris Ackerman uses the most sophisticated techniques to customize your lip lift and deliver naturally beautiful results.
Dr. Ackerman serves all of Los Angeles and Orange County from his Newport Beach plastic surgery practice and performs lip lifts regularly. Known for his expertise in the deep plane facelift technique, Dr. Ackerman adds lip lifts to most of his facelift surgeries for more comprehensive results.
Dr. Ackerman is currently accepting new patients. He welcomes your phone call at (949) 536-9047, or you can fill out our online contact form to schedule your consultation.
Our medspa also offers lip fillers and employs highly qualified clinicians.