3 Ways the Ackerman Facelift Retractor Makes Facelift Surgery Better
Posted April 05, 2022 in Facelift
3 Minute Read:
Dr. Boris Ackerman has long been regarded as a pioneer in the field of facial rejuvenation surgery. As he utilizes advanced facelift techniques, Dr. Ackerman created the Ackerman Face Lift Retractor to assist in the performance of Deep Plane Facelift.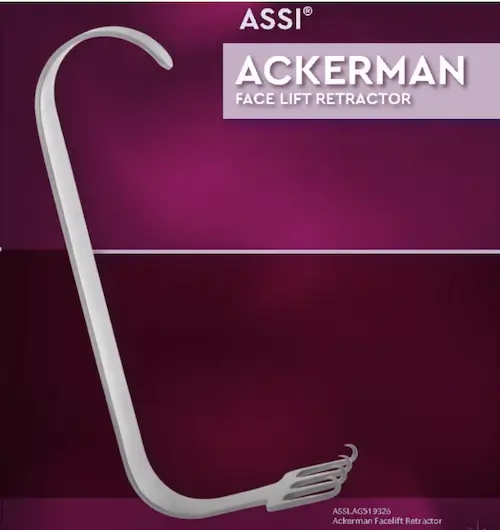 It's no wonder that the Accurate Surgical and Scientific Instruments Corporation or ASSI® for short has made the Ackerman Face Lift Retractor available to surgeons all over the world.
The Top 3 Reasons to Ask for the Ackerman Retractor
Visibility and safety are the key advantages to using the Ackerman Retractor during a deep plane facelift, and once a surgeon uses it, these three features make it indispensable.
The retractor allows for enhanced safety of dissecting deep tissues, while preserving facial nerves.
The ergonomic design is less cumbersome as it is made specifically for facial surgery, and it reduces the risk of hand fatigue.
This tool provides ideal exposure of the sub-SMAS layer and the Deep Plane tissues of the cheek.
What Is a Deep Plane Facelift?
The deep plane facelift is an advanced technique perfected by Dr. Boris Ackerman. This advanced facelift technique combines the tightening of the SMAS layer with the ability for a deeper, more complete dissection of the cheek complex and nasolabial folds. These are the parenthesis-like lines that extend from the nose to the sides of the mouth.
By accessing the deeper tissues, the entire facial structure can be repositioned for dramatic but natural results. The method also tends to produce results that last longer (compared to the standard SMAS facelift) because deeper structures are lifted and tightened.
Why Use the Ackerman Retractor for Deep Plane Facelifts?
While incisions for the deep plane facelift are similar to the SMAS facelift, the technique is different.
During a SMAS procedure, the skin is detached from the SMAS layer and lifted separately. The deep plane facelift does not separate the skin completely, and the retractor provides the extra visibility needed when sculpting the layers of tissue, extending from the cheek-lid junction to the neck.
Because the deep plane facelift tightens the facial skin and tissues as one unit, the precision and visualization provided by the retractor are invaluable.
Can Anyone Perform a Deep Plane Facelift?
A deep plane facelift requires extensive knowledge of the many levels of facial structure, and for safety and optimal results, performing this procedure takes talent, skill, and above all, experience.
Facelift Before and After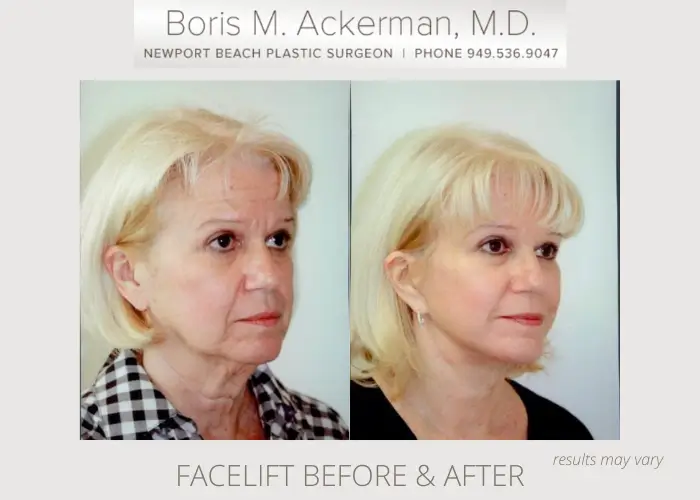 Check out his facelift before and after gallery to see more of the dramatic results achieved with the deep plane facelift.
Thinking About Getting a Facelift in Newport Beach, CA?
Dr. Boris Ackerman is a highly-esteemed plastic surgeon in Newport Beach who is the creator of the Ackerman Face Lift Retractor, a surgical tool used to aid surgeons who perform the deep plane facelift.
Call Dr. Boris Ackerman's Newport Beach plastic surgery practice today! Dial (949) 759-3284 or fill out our online contact form to schedule your consultation.