3 Important Facts Balding Men Should Know About Male Facelifts
Posted September 15, 2021 in Facelift, Facelift Scars, Male Facelift
4 Minute Read:
As more advanced facelift (rhytidectomy) techniques are developed to reduce recovery time and scarring while providing more natural-looking results, an increased number of men are opting for facelifts.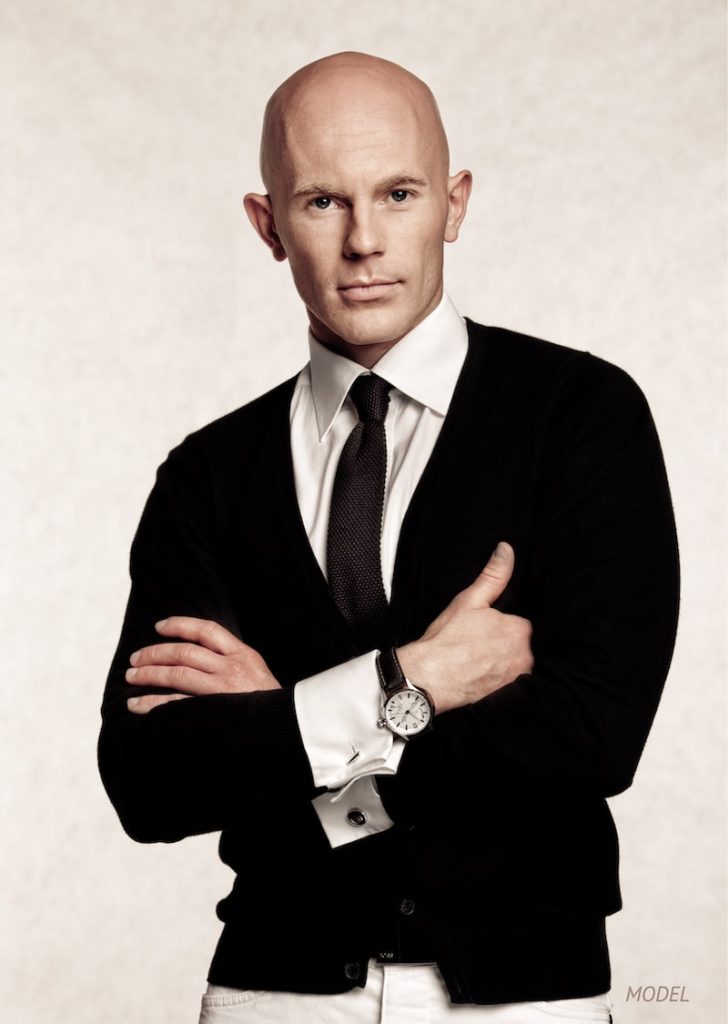 Whether you've been thinking about addressing the effects of aging or are concerned with what you perceive as one or more facial flaws, a male facelift can improve many aspects of a man's aesthetic.
Facelift scars are strategically placed in hairliness and natural creases, and with time they become nearly invisible. In a bald male, the placement of incisions is somewhat more challenging. Nevertheless, an expert facelift surgeon can overcome most of these challenges.
What Are Common Questions Men Have About Facelift Surgery?
Most men interested in this procedure will have questions; if you are considering a male facelift and your hairline is receding, you may have even more.
Where are the incisions made?
How large are the incisions?
What about a male facelift for men who suffer from hair loss?
Wouldn't scarring be more visible in bald or balding men?
Are the results just as good as those whose scars are easily hidden?
These are all valid questions if you have a significantly receding hairline or are bald by choice and are considering a male facelift.
Before you meet with a plastic surgeon, you'll want to make a list of all the questions you have and remember these three facts.
1. Most Plastic Surgeons Do Not Have Experience With Male Facelifts on Balding Patients
When searching for your potential plastic surgeon, it is wise to find a plastic surgeon with experience performing male facelifts on balding patients.
It takes time for a plastic surgeon to master the skill of performing male facelifts. Men who have less hair at the temples to hide surgical scars will want a doctor with the ability and experience to provide transformative and discreet results while maintaining the masculinity of your face.
Read our blog to learn more about Dr. Ackerman's experience performing male facelift surgery.
2. The Deep Plane Method Is the Preferred Choice for Male Facelifts
There are several ways of performing facelift surgery. The deep plane method is recommended for male facelifts and strongly encouraged for bald or balding patients.
A male facelift is performed differently than a facelift for a woman to avoid the feminization of your face. You'll want to know that your doctor understands deep plane techniques and has experience in this method.
The deep plane facelift is an advanced technique that elevates all mid-face tissue (including the skin, SMAS layer, and fat pad) as one unit. This helps promote more natural-looking results with less scarring.
3. Skilled Incision Placement and Suturing Technique Is Key for Male Facelifts in Balding Patients
The most common areas for facelift incision placement are the temples, behind the ears, and under the chin (sub-mental). This allows the resulting scars to be easily hidden behind the ears and in the hairline.
While the deep plane method places incisions primarily behind the ears and under the chin, there is a need to place some sutures near the temples. An experienced surgeon will make shorter temple incisions behind the hairline in balding patients. However, men who are completely bald will not be able to hide these incisions.
This situation calls for a plastic surgeon who can create less visible scars. The surgeon's ability to make smaller incisions at the temple and use dissolving sutures on multiple layers is vital. Obtaining virtually invisible scars requires the right suturing method, which will result in scars that blend in better with the surrounding skin.
Dr. Boris Ackerman of Newport Beach is highly skilled in the art of the male facelift, whether you have hair or not. He specializes in challenging cases and is currently accepting new clients.
What Does a Male Facelift Look Like?
If you are considering a facelift as a balding male, you can gain a better understanding of the possible results by visiting our male facelift before and after photo gallery.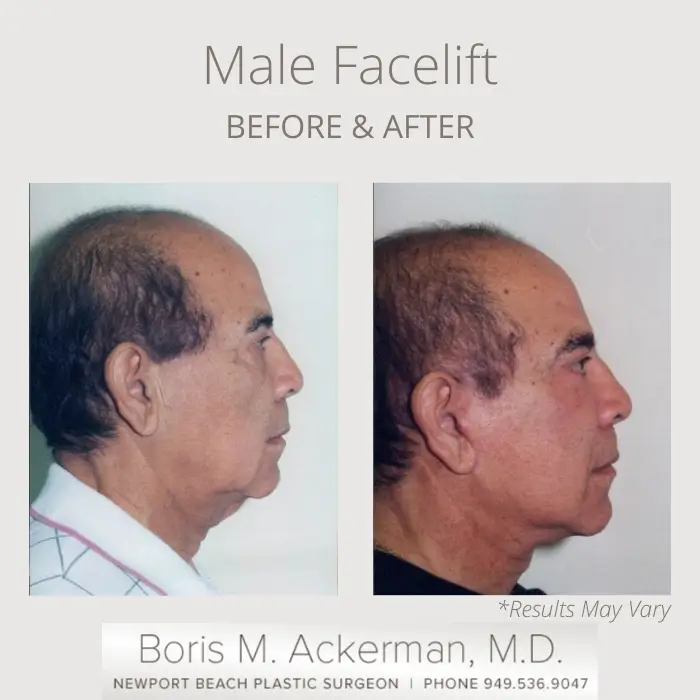 A Natural-Looking Facelift for Balding Patients Is Possible. Call Dr. Ackerman's Newport Beach Office Today!
Don't let male pattern baldness keep you from enjoying the benefits of a male facelift. These include the restoration of facial definition by reducing loose skin and fat deposits, a more youthful appearance, and an increase in self-esteem.
Visit us online or give us a call at (949) 759-3284 to schedule your consultation today!
For more information on facelift procedures, you can visit the American Society of Plastic Surgeons.