Does a Facelift Help Skin Texture?
Posted March 26, 2020 in Facelift
3 Minute Read:
Facelift surgery helps to reduce the signs of aging by repositioning deeper facial structures and by tightening and smoothing the skin. While facelift surgery will make you look younger and more rejuvenated, it cannot correct some skin irregularities, such as blemishes, age spots, hyperpigmentation, redness, and other texture concerns.
Fortunately, there are many minimally and non-invasive treatments you can undergo after a facelift to restore an even and glowing skin tone and texture. Some skin treatments can be done at the time of a facelift, some before the facelift, and some after the facelift. Your plastic surgeon will advise you on the best approach.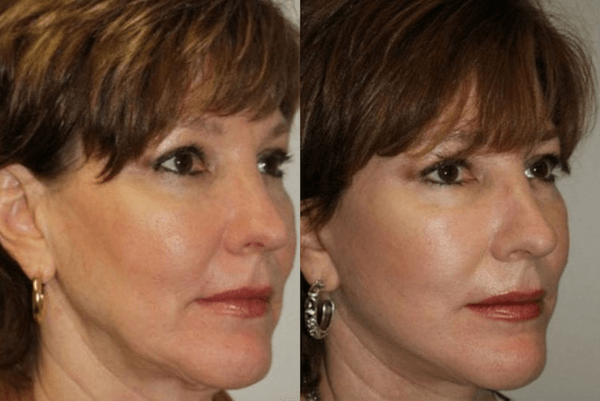 What Are Good Skin Treatments to Combine With a Facelift?
Combining a non-surgical skin treatment with facelift surgery can help you receive the results you want.
While no non-surgical procedure can match the skin tightening ability of the facelift, they do provide something that facelift surgery cannot: improve skin tone and texture. And as most people know, skin irregularities go far beyond lines, wrinkles, and sagging skin.
There are several non-invasive and minimally invasive treatments that you can combine with your facelift to improve your complexion.
Non-surgical procedures cannot be performed at the same time as a facelift. These "combination" procedures can be chosen once you have healed from your facelift.
Chemical Peels
Chemical peels are designed to resurface and clear the skin of blemishes. Chemical peels can help redefine skin texture by dark spots, acne, and sun damage.
There are several chemical peels available, each with their own intensity. The level of chemical peel will be chosen depending on the severity of the skin concern.
Some of the peels offered by Dr. Ackerman include:
Micropeel
Micropeel Plus
VI Peel®
Gel Peel
CO2 Fractional Resurfacing
CO2 fractional resurfacing removes the top layer of damaged and discolored skin. Acne scars and other skin damages will be less noticeable following this laser treatment, which will redefine your skin texture.
IPL PhotoFacial
An IPL PhotoFacial uses light energy to penetrate the skin to improve the look of hyperpigmentation from sun damage and skin redness, such as rosacea.
Dermaplaning
Dermaplaning exfoliates the skin by removing the top layer. The skin treatment uses a surgical blade to gently remove the upper level of the epidermis, taking the impurities, such as dead skin cells, with it. Dermaplaning evens out your skin tone and, as a bonus, removes unwanted peach fuzz.
Dr. Ackerman's Power Facial
Dr. Ackerman offers the Power Facial to exfoliate the skin with a combination of microdermabrasion and a glycolic peel. This treatment restores healthier and younger-looking skin.
How Do I Know Which Treatment Is Best for Me?
It is essential to speak with your doctor about the aspirations you have for your skin. Together, you and your doctor can create a plan that best fits your skin goals.
Want to Learn More About Facelift and Skin Treatments?
If you would like to learn more about facelifts and skin treatments in Newport Beach, contact Dr. Ackerman at (949) 759-3284 or fill out our online contact form today.